3rd Quarter 2019
Greening Malaysia book launched at KLAF 2019
October 2, 2019
In celebration of Green Building Index (GBI)'s 10th anniversary and in conjunction with the Kuala Lumpur Architecture Festival 2019 (KLAF 2019), the launch of the Greening Malaysia book was held on 4 July 2019 at the Kuala Lumpur Convention Centre.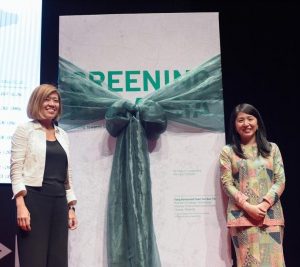 Greening Malaysia, which aims to create awareness on environmental issues among industry professionals such as architects and developers as well as the public, was edited by Mitchell Gelber with Boon Chee Wee and Serina Hijjas, while photography was done by Lin Ho.
The launch was officiated by the Minister of Energy, Science, Technology, Environment and Climate Change, Yang Berhormat Yeo Bee Yin, who shared, "Greening Malaysia comes at the right moment as efforts, both big and small, have to be made now to motivate us to be more energy efficient and energy self-sufficient. Just as I have set targets to increase Malaysia's reliance on renewable energy from 2 to 20 per cent, so too must our cities be part of the solution. With buildings and transportation accounting for 30 per cent of our total greenhouse gas emissions, these sectors must be made more sustainable."
Organised by Pertubuhan Akitek Malaysia (PAM; Malaysian Institute of Architects), KLAF 2019 took place from 21 June to 7 July 2019 at three main venues, namely Bangsar (PAM/APW), Mont Kiara (Publika) and KL City (REXKL, Ruang@ThinkCity and Kuala Lumpur Convention Centre). The theme for the Festival this year is Tomorrow, which promoted four sub-themes: Shelter, Future Food, Architecture + Art, and DATUM:KL + ARCHIDEX. For more information, please visit visit www.klaf.my.
ARCHIDEX 2019
In conjunction with KLAF 2019, the 20th edition of the International Architecture, Interior Design and Building Exhibition (ARCHIDEX) 2019 was opened on 3 July 2019 at the Kuala Lumpur Convention Centre by the Minister of Works, Malaysia, Yang Berhormat Tuan Baru Bian. Jointly organised by C.I.S Network Sdn Bhd (C.I.S) and PAM, the four-day exhibition explored the latest industry trends and innovations with over 1,400 exhibition booths by 600 exhibitors locally and internationally.
Participants took part in a range of professional networking events, conferences, forums, workshops and business matching programmes to support building businesses and promote the sharing of knowledge in designing better sustainable architecture for the future. A total of 62 local and international renowned speakers presented at DATUM:KL (International Architecture & Design Conference), the Focus Forum, The Forum @ PAM Tomorrowland Pavilion, and Biz @ ARCHIDEX, for example.
PAM Tomorrowland Pavilion gave attendees a peek into what the future brings and to explore the possibilities in architectural and urban design. "The Pavilion showcased the complex relationships within the rapid development of robotics, programming, artificial intelligence, augmented and virtual reality, big data, block chain as well as other disruptive technological developments that will alter the paradigm and reshape our built environment," said Dato' Vincent Lim, president of C.I.S.
Lillian Tay, president of PAM, shared, "ARCHIDEX will empower industry players to think about the future and adapt to fast approaching changes. We will have to work hand in hand with disruptive technology that will inevitably change the way we think and design things. I am hopeful that this year's exhibition will drive two strong outcomes—to build for tomorrow, yet to be able to sustain today for the future."
Previously Published Happening