May - Jun 2016
Green Building Index Sustainability hits milestone
May 6, 2016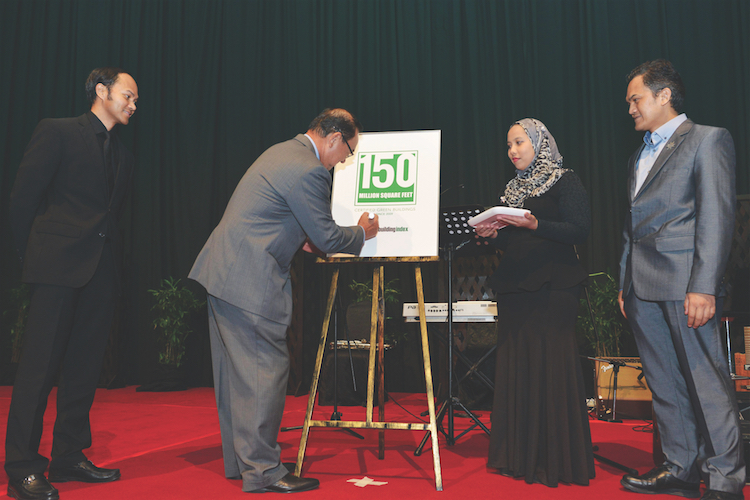 On 4 March 2016, Malaysia's Green Building Index (GBI) has hit the 150-million-square-foot mark of gross floor area in GBI-certified buildings. This is a 50-percent leap from its 100-million-square-foot milestone achieved two years ago, making it the first and largest gross floor area certified by a single Green certification organisation in Malaysia. This achievement is a combination of more than 300 certified projects out of more than 700 registered projects to date. The announcement was made at the 150-million-square-foot commemoration dinner of Certified Green Buildings at the Kuala Lumpur Convention Centre, officiated by Tan Sri Peter Chin Fah Kui, chairman of Malaysia Green Technology Corporation (GreenTech Malaysia).
Chairman of Green Building Index Accreditation Panel (GBIAP), Chan Seong Aun said, "Green buildings are a strategic imperative for thought leadership within the built industry in every country. The successful implementation of GBI tools and stringent certification process distinguish us from the rest. GBI aspires to set a standard in sustainability that is widely recognised by the built industry. As a non-profit organisation, GBl's set-up has helped to catalyse the built industry and we aim to continue to develop a much more extensive repertoire that reflects GBl's evolving standards. The 150-million-square-foot achievement is indeed something that we, and indeed, the whole building industry can be proud of."
Following the successful implementation of GBI bespoke tools, newer and upgraded versions of the tools have been introduced to ensure that GBI stays relevant and ahead of the industry's requirements. To date, GBI has successfully introduced 15 bespoke tools, developed and enhanced to address the sustainability requirements and to ensure that sustainability is preserved and performance of each project is achieved via standards that are internationally recognised.
"GBI certifications are based on the performance of the building, as to whether each building conforms to the criteria requirements and efficiency index. What is designed may not be translated to what is built. At GBI, prior to final certification, we ensure that these buildings perform as claimed, through our detailed site inspections and rigorous assessment conducted by our professional certifiers, all of whom are practising professionals. Rest assured, GBI-certified buildings meet both the international standard of Green rating as well as its physical performance of the building," added Chan Seong Aun.
"Parallel to the sanction to catalyse Green technology deployment as a strategic engine for socio-economic growth in Malaysia, GBI cements its commitment in ensuring that the four pillars of the National Green Technology Policy 2009 is being realised. With such a strong organisation and accreditation body like GBI, it will propel Malaysia to position itself as a global hub for Green technology by 2020 and subsequently develop the country into a Green community by 2030," commented Tan Sri Peter Chin.
Previously Published Happening