FuturArc Exchange and Exhibitions (FEX) | 3Q 2022
September 6, 2022
What does the trajectory of an architect's design evolution look like—from school days to practice? Some have a distinct style or approach that has been honed since their early work, while others may experiment and adapt from their experiences in different offices. Through FEX, we invite principal and senior architects to present their repertoire to an audience of designers and construction industry professionals—emerging and established alike—exchanging ideas to build better and Greener.
---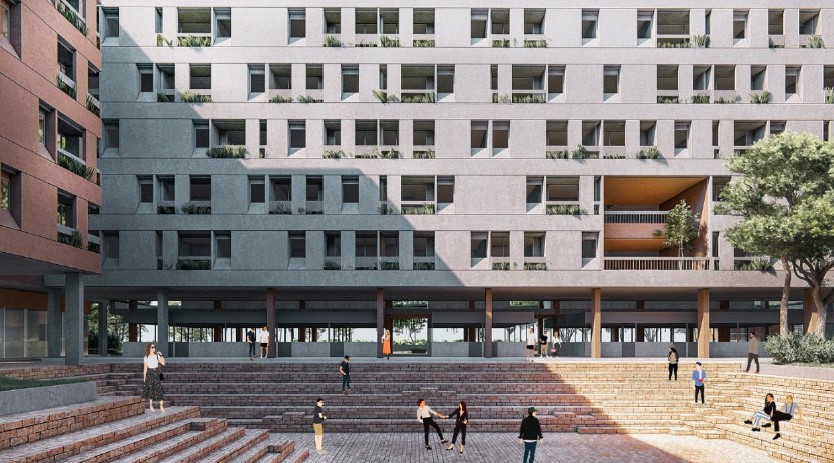 Date 13 May 2022
Audience Balikpapan, East Kalimantan
Venue Mahakam Room, Swiss-Belhotel
Technology reviews Fumira; Hunter Douglas Indonesia-Architectural; Mapei Indonesia
Supported by Indonesian Institute of Architects (IAI) Balikpapan
In a presentation titled Developing Dreams, Primaldy Perdana of LABWRKS Architects took attendees on a journey from his final project in school—a library and gallery complex—to his professional portfolio, which he described as a period "when reality hits". The office's projects maintain a distinct geometric character, such as in Sleman Regent Office where the sunshading design was batik pattern cut-outs.
Agung Setiawan's presentation delved into the process behind ARK studio's residential projects. For the newly built YM House, they worked closely with the owner while for the renovation of MR House, data about the existing built house from developers was needed.
---
Date 3 June 2022
Audience Yogyakarta Special Region
Venue Zoom session
Technology review Mulia Ceramics
Supported by IAI Daerah Istimewa Yogyakarta
Practicing in Bali, Gede Hendrayana of GHA Studio traced his inspiration from the villas designed by renowned architects such as Geoffrey Bawa and Kerry Hill, along with his reflections on the island's cultural development throughout the years and how it has interacted with technology. These learnings inform his projects, such as Seseh Sundowners in Badung Regency, which adapts the tropical colonial style to create grand, well-ventilated spaces.

---
Date 10 June 2022
Audience Semarang, Central Java
Venue Arcadia Room, ASTON Inn Pandanaran
Technology reviews Bluescope; Lamitak; Mapei Indonesia; Exhibitors Mortar Utama; Maxi Steel Door
Supported by IAI Jawa Tengah
Aris Munandar of Hepta Desain was trained as an architect at the Bandung Institute of Technology (ITB). Coming full circle, the firm has designed ITB's new multifunctional building at Cirebon, drawing inspiration from local architecture to become more resilient against flood risks. Similarly, Agung Rudianto of Deamaya Studio presented on how design is a process of self-discovery, stitching together references from street photography and graffiti to fashion in projects such as CQ Studio, a creative office.
---
Date 17 June 2022
Audience Palembang, South Sumatra
Venue Zoom session
Technology reviews Fumira; Hunter Douglas Indonesia-Architectural
Supported by IAI Sumatera Selatan
This session invited Handri Welopo of We Arsitek, a firm that has designed a handful of retail projects for popular coffee franchises. The designs implemented passive energy-saving strategies such as installing skylights—which also helps to foster healthier spaces.
---

Date 1 July 2022
Audience Denpasar, Bali
Venue Jimbar Ballroom, Swiss-Belhotel Batu Jimbar, Sanur
Technology reviews Bostik; Fumira; hansgrohe
Supported by IAI Bali
Primaldy Perdana of LABWRKS Architects presented their conceptual designs and built projects, including an installation titled Fabric that immersed visitors in the urban fabric while interpreting it to be the pavilion skin. Ricky Putra of Studio Asri showed a range of residential and commercial projects, including the competition entry for Baresan Geopark in Banyuwangi that accommodated eco-conscious tourism while striving to preserve Nature.
---
Date 15 July 2022
Audience Surabaya, East Java
Venue Shinta Ballroom, Wyndham Surabaya
Technology reviews Avian Brands; Lamitak; Hunter Douglas Indonesia-Architectural
Supported by IAI Jawa Timur
Helming a young firm to reach widespread recognition, Yanuar Pratama of Aaksen Studio has been looking into applying vernacular solutions to solve today's problems. One example is Albizzia House, a multi-generational residence that is 'shrouded' with wooden shutters to enable crossventilation.
Dwelling on similar themes, Pandya Praditya of StudioPAPA asked, "Is architecture today devoid of character—bland, monotonous and boring?" He argued that wanting to be surrounded by Nature is "in our DNA", hence they have created projects such as Kapel Domus Mariae overlooking a hill.

---
Date 22 July 2022
Audience Semarang, Central Java
Venue Kapuas Grand Ballroom, Aruss Hotel
Technology reviews Roda Bangun Mandiri; Hunter Douglas Indonesia-Architectural
Exhibitor Sun Power Ceramics
Supported by IAI Jawa Tengah

Irwan Lubis of Medan-based Bumi Design Studio has the mission to 'ground' architecture to be accessible for all layers of society, reflecting this in a lively studio practice with frequent project visits as a learning tool. Their affordable student accommodation Goldhouse has the tagline Green is the new gold, providing well-ventilated rooms within a limited plot of land. With the spirit to craft memorable details, Adityo Gayuh of Yogyakarta-based CDS presented Akara Stable, a bespoke equestrian facility inspired by the shapes of horse-riding equipment.
---
Date 29 July 2022
Audience Yogyakarta Special Region
Venue Borobudur Ballroom, Grand Tjokro
Technology reviews Dulux Indonesia; Mortar Utama; Granito
Exhibitor Wadja Inti Mulia
Supported by IAI Daerah Istimewa Yogyakarta

"We make empathetic spaces," said Clifford Sutedjo of Spasi Architects. This goes beyond following what clients want, but rather investigating the right questions to answer for each project. Responding to an increasingly flexible culture of work, their café projects such as TGC Umalas and Makadamia Complex offer naturally ventilated spaces for working and socialising.
In contrast to the ever-connected world, Arief Isrefidianto of AI-CTLA Studio presented an experimental isolation shelter called Podmana. It is described as "a personal space unit for recognising human limits in order to manage mental health" that assembles furniture-scaled spaces for sleeping and seating designed to be placed amidst Nature.
---

Previously Published Happening