Sep - Oct 2016
FairBuilding Network: Overcoming Poverty One Project at a Time
September 6, 2016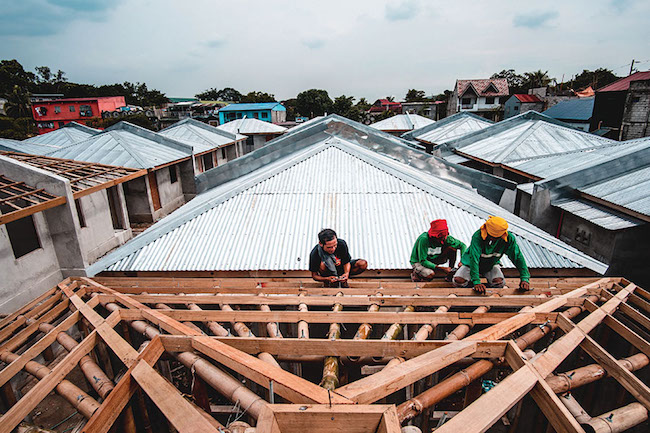 Two years ago, Dr Matthias Krups, CEO and founder of BCI Media Group, established the FairBuilding Network in the Philippines. After a couple of years, the contributions of the FairBuilding Network are now evident in the society.
Dedicated to the mission of overcoming poverty one project at a time, the FairBuilding Network brings together willing buyers and sellers in a neglected segment of the construction market. It identifies and highlights projects developed by local non-governmental organisations (NGOs), local government units and social housing developers that are normally off the radar of the
mainstream building industry. By leveraging BCI's position in the market, FairBuilding aggregates projects from the underprivileged part of society and leverages their demand towards the construction industry through an online platform and through building of trustful relationships. In doing so, FairBuilding enables NGO projects to source for discounted construction materials or inkind
contributions for their projects. On the other hand, it offers the industry an opportunity to raise their social profile by engaging with projects that help the poor, while at the same time extending their market reach to an underappreciated, low-income segment.
Poverty is a critical social problem in the Philippines. The statistics reveal that 24 million people live below the poverty line, while 4.5 million are reportedly homeless and 3.1 million are informally settling in the slums. While the government cannot solve these issues alone, organisations such as Virlanie, Base Bahay and Habitat for Humanity are at the frontline to provide shelter for
homeless kids living on the street; help families move out of slums and unsafe living conditions, and into new homes; or for rehabilitation after natural disasters.
These and nine other non-profit organisations are partners of the FairBuilding Network. They have been brought together with selected suppliers and manufacturers at the bimonthly FairBuilding's Engagement Forums. The fruits of those meetings are, for example, newly painted walls and tiled floors in Virlanie's homes for disadvantaged children; new plumbing equipment; new doors; roofing and lighting requirements for new homes of Base Bahay and Child and Family Service Philippines, Inc. (CFSPI). The materials and labour were provided at a discounted cost of 20 percent, which made a significant difference for the NGOs and helped to stretch their engagement opportunities even further. After the first success story—a donation of light bulbs provided by Philips to Habitat for Humanity—FairBuilding was able to support a total of four NGOs and awarded the Gold Partner status to nine construction companies until June 2016.
A testimony of an efficacious combination of style and pragmatism is the approach from FairBuilding partner Base Bahay (an initiative of Hilti Foundation). Their holistic approach combined a sustainable housing design with locally sourced bamboo to support the local economies, while developing quality resilient housing solutions at the same time.
Base Bahay completed various construction projects for the poor, the homeless and the victims of calamities, particularly those of Typhoon Haiyan in 2014. FairBuilding Network enabled multiple transactions with Base's construction of 21 duplex homes in Bagong Silangan, Quezon City (for example, a purchase of plumbing requirements (PVC pipes) from Ambassador International, Inc., for a 20-percent discount). Matimco, Inc. supplied the needed doors while Jacinto Colorsteel supplied the roofing requirements, both giving a 20-percent discount. Yatai International Corporation made multiple transactions with Base Bahay, giving a 25-percent discount on electrical supplies and donating a total of 294 compact fluorescent light bulbs. The realisation of this project had a large impact on 42 families who were relocated from Payatas and other flood-prone areas in Bagong Silangan. The new homes were turned over in July 2016.
To date, FairBuilding Network has helped NGOs in their construction projects with approximately USD15,830 (approximately PHP747,900) in savings. The organisation aspires to grow and increase its capacities in the coming years to help the less fortunate, while creating win-win propositions for the construction industry.
In November 2016, the network has planned an international conference in Manila, Philippines, to celebrate its success stories and showcase the impact of its concept.
To learn more about FairBuilding Network, please visit their website: www.fairbuilding.org or Facebook page: https://web.facebook.com/ FairBuildingNetwork.
Previously Published Happening