Jul - Aug 2017
FuturArc Forum 2017
May 31, 2017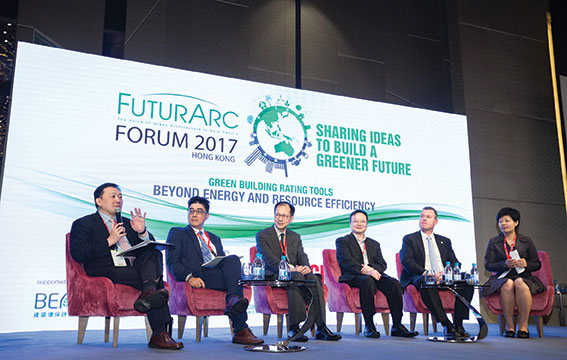 Following the success of the series in 2008 and 2011, the FuturArc Forum once again play host in 2017 to Green building experts, policymakers as well as built environment practitioners and professionals. The FuturArc Forum 2017, held on 25 April 2017 at Crowne Plaza Hotel Kowloon East, Hong Kong, was themed Green Building Rating Tools—Beyond Energy and Resource Efficiency.
Proudly supported by the Beam Society; China Green Building Council Hong Kong Chapter; Construction Industry Council; Hong Kong Institute of Urban Design; Royal Institute of British Architects Hong Kong Chapter; The Hong Kong Green Building Council; and The Hong Kong Institute of Architects, the all-day event drew 11 influential industry speakers to discuss the environmental and psychological well-being in construction development. The distinguished speakers include Stephen Yim (Chief Architect, Housing Authority); Dr Vivien Lu (Associate Professor, Hong Kong Polytechnic University); Dr Raymond Yau (General Manager, Technical Services & Sustainable Development, Swire Properties Limited); Dr Benny Chow (Director of Sustainability, Aedas); Graham Tier (Head of Property Facilities Management, The Hong Kong Jockey Club); Ir Conrad Wong, BBS, JP (Vice Chairman, Yau Lee Holdings Limited); Ir Eagle Mo (Managing Director, Telemax Environmental and Energy Management Limited); Dr William Yu (Chief Executive Officer, World Green Organisation); Dr Vincent Cheng (Director of Sustainability, ARUP); MK Leung (Director of Sustainable Design, Ronald Lu & Partners); and Prof Bernard V. Lim, JP (Principal, AD+RG Architecture Design and Research Group Ltd).

Some of the topics covered were:
• Our Green Solutions for Sustainable Buildings
• Sustainable Buildings by Integrated Design Approach & Knowledge-Based Energy Management
• The Green BIM in Designing Urban Microclimate for Smart City Development: A Business Case Study
• Setting the Standard Through Best Practice Development and Facilities Management
• Green Design for Mega Size Resorts & Hotels
• Green Office & Wellness
• Beyond Energy and Resource Efficiency: Healthy Building through Digital Transformation
Panel discussions included:
• Are energy and resource efficiencies enough to measure Green building performance? How do we measure occupants' wellness?
• What are some key design strategies to build for wellness and their challenges?

FuturArc Forum 2017 attracted more than 200 participants that included developers; architects; engineers; contractors; consultants; scholars; government representatives; and other stakeholders in the construction industry. The forum was accompanied by an exhibition that showcased leading innovations as well as energy-efficient building materials, designs and achievements in Green technologies.
Previously Published Happening