Sep - Oct 2018
CleanEnviro Summit Singapore and Singapore International Water Week 2018
October 28, 2018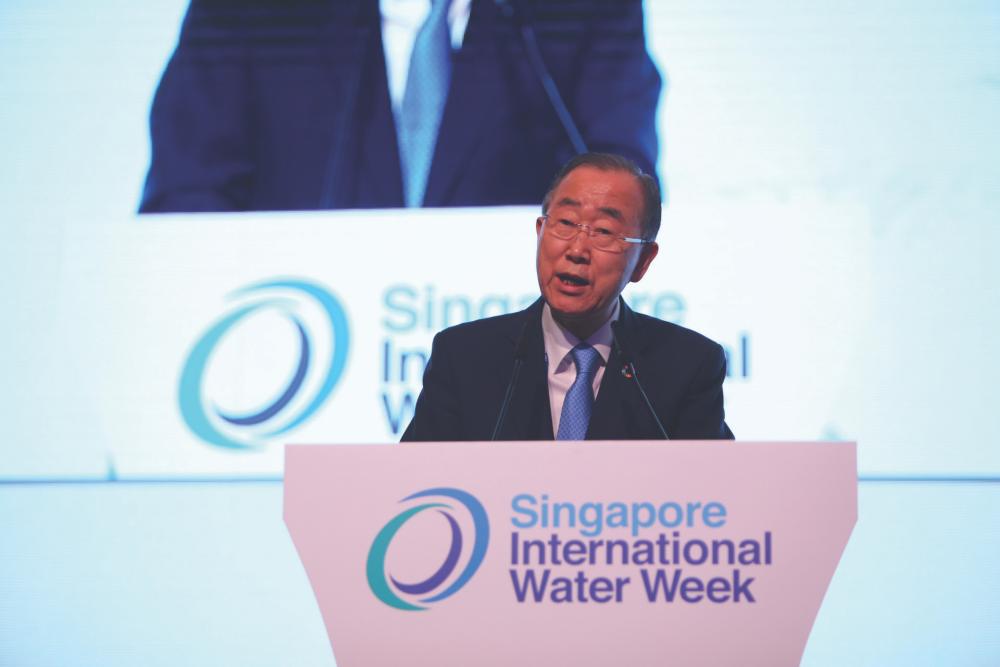 Transforming tomorrow's cities with clean environment solutions

Industry leaders, global stakeholders and participants convened at the CleanEnviro Summit Singapore (CESS) 2018 to identify, develop and share practical, replicable and scalable solutions that address environmental challenges in the context of the waste-water-energy nexus in the cities of tomorrow. The summit concluded with over SGD 5.5 billion worth of projects and business deals announced, highlighting global opportunities for novel innovations in the environmental services industry to address the urgent challenges of climate change and environmental sustainability.
Organised by the National Environment Agency (NEA), Singapore, the fourth biennial CESS was held from 8 to 12 July 2018 in conjunction with the World Cities Summit and Singapore International Water Week. Government and academic leaders participated in high-level discussions on developing a skilled industry, optimising upcoming technologies and implementing best practices among civil and business organisations. Innovation projects by start-ups and research teams were also showcased.
Masagos Zulkifli, Minister for the Environment and Water Resources, Singapore, officiated at the Environment and Water Leaders Forum with cross-disciplinary environmental and water policies as well as governance issues alongside other world leaders. Given the increasingly close relationship between environment and water, the discussion of innovative solutions via cross-disciplinary collaboration reiterated how leaders across both segments must mirror that real-world link with their collaborative relationships across these disciplines.
The Clean Environment Leaders Summit provided a platform for delegates
to connect and exchange ideas surrounding policy and regulation; business innovations and green growth models; and global trends in environmental technologies to look at best practices and possible ways to drive new innovation more systemically across the total ecosystem, both locally and globally.
Innovative water technologies explored

The global water conference concluded with close to SGD 23 billion in total value for the announcements on projects awarded, tenders, investments and MOUs. It provided a strategic platform for key stakeholders within the water industry to come together to discuss and co-create solutions to global water challenges, focusing on emerging themes such as smart technology, resource-efficient water treatment and the accelerated commercialisation of innovative water technologies.
"SIWW 2018 marked 10 years since the first event in 2008," said Bernard Tan, Managing Director of SIWW. "The depth of the discussions, the landmark announcements that have paved the way for industry acceleration, the number of water companies that have grown with our event, and the continued pipeline of commercial deals all combine as a strong testament to the event's critical role as a key driver of the global water industry in the last decade."
Key initiatives

SIWW 2018 saw a number of key initiatives that will accelerate the future of the water industry—from an industry roadmap for smart water and a number of new facilities to challenge our innovation frontiers to programmes that create a growth strategy for new water companies. These include:
• Call for upcoming tenders for the works in Tuas Nexus estimated at a total value of more than SGD5 billion over the next five years.
• The launch of Singapore Water Exchange, a facility designed to build a collaborative ecosystem across the water value chain that allows for potential synergies in pushing the frontier of water innovation and business growth.
• Unveiling of the five-year SMART PUB Roadmap, a key pillar in Singapore's water resource management, to improve operational excellence and meet future water needs.
• World Bank's announcement that it will be carrying out 18 water projects worth SGD3.5 billion in FY19/FY20 in East Asia and the Pacific and South Asia regions while Andhra Pradesh will invest SGD8.4 billion in water infrastructure from 2016 to 2029.
With 2018 officially declared as the Year of Climate Action for Singapore, climate change and its impact on water systems was one of the topics of discussion at SIWW this year. This was underscored by the Special ASEAN Ministerial Meeting on Climate Action, a regional platform hosted by Singapore to discuss climate action efforts. At the meeting, Environment and Water Resources Minister Masagos Zulkifli launched the Climate Action Package, a slew of Singapore-led programmes from this year until 2020 as a part of efforts to help ASEAN countries tackle climate change.
The next CESS and SIWW will be held from 5 to 9 July 2020 at the Sands Expo and Convention Centre, Marina Bay Sands, Singapore.
Previously Published Happening