Sep - Oct 2018
International Federation of Landscape Architects World Congress 2018
October 28, 2018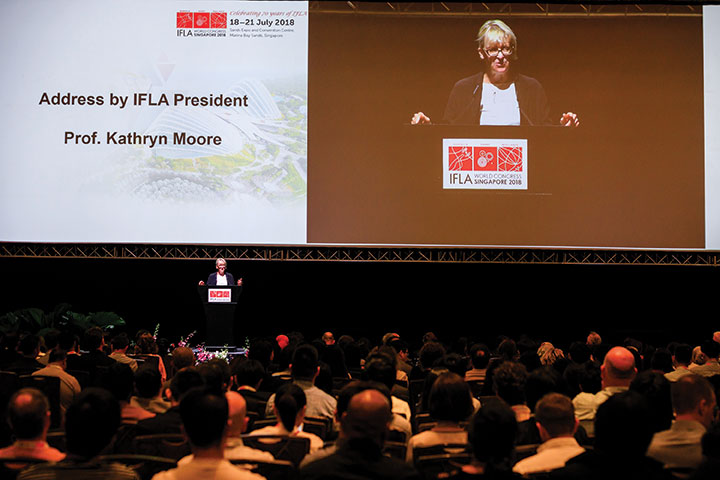 Returning to Singapore for the second time, the 55th International Federation of Landscape Architects (IFLA) World Congress 2018 is the largest and most significant event for landscape professionals in the world. Held from 18 to 21 July 2018 at the Sands Expo and Convention Centre, Marina Bay Sands, Singapore, it set the stage for professionals, government bodies and academics to be part of the in-depth discourse on trends, challenges and business opportunities on a global scale. This year, there were a total of 1,552 participants.
With an opening address by IFLA president, Prof Kathryn Moore, the Congress featured exhibitions that showcased landscaping solutions, innovations and products in the Asia Pacific region. Participants connected with a comprehensive community that included government bodies, business leaders, industry representatives, academics and thought-leaders on conversations that surrounded potential strategic innovations to adapt to the changing environment.
A key platform that champions landscape architecture as a major contributor to the development of attractive, liveable, equitable and sustainable environments of the future, IFLA 2018 proceeded with three themes:
Biophilic City, Smart Nation and Future Resilience, as put forth by Lawrence Wong, Minister of National Development, Second Minister of Finance, in his opening speech as the guest of honour.
Biophilic City

This theme examined the discipline and practice of landscape architecture in the context of rapidly growing cities. Citing Singapore as an example of a biophilic city, Prof Timothy Beatley (Teresa Heinz Professor of Sustainable Communities, Department of Urban and Environmental Planning, School of Architecture, University of Virginia, USA) rhetorically questioned, "Exactly what is a biophilic city, and what are its key features and qualities? Perhaps the simplest answer is that it is a city that puts nature first in its design, planning, and management; one that recognises the essential need for daily human contact with nature as well as the many environmental and economic values provided by nature and natural systems." Read more about Prof Beatley in the FuturArc Interview in this issue on page 20. He elaborated, "Cities and nature? My answer is a definitive yes. Singapore is a good example of the two together. The definition of biophilia—many of you know it already, and you feel it already when you come in contact with nature—the belief that we have an innate affiliation with the natural world. We believe that the contact and connection with nature is not something optional, it's absolutely essential for leading a happy, healthy and meaningful life; the notion that we co-evolve with nature."
He further added, "Minister Wong mentioned the notion of integration earlier, which is very important. The idea that a green wall and a green roof connect to a forest canopy that connects to a ground-level park provides an integrated experience with nature. Just about anything that you could do to make a city biophilic will also make it more resilient; we have to think about the multiple functions that the green elements in a city have. Portland has just adopted a green rooftop requirement, where they bring nature into the city through storm water management, where they have more than 2,000 of green streets and over 600 green roofs. This vision of a biophilic city is having nature all around us; it's not just something that you can get once or twice a year on vacation."
Speakers presented case studies on how these biophilic cities are expressed; how we frame landscape architecture's necessity and its leading role in improving the urban and natural environment in the context of a biophilic city.
Smart Nation

Positioning landscape architecture in the context of an increasingly digitalised society, we aspire to extend our ability to measure and assess our environments beyond our physical senses through the aid of remote sensors and probes. The advent of information technology and data analytics may provide insights into how we may enhance our design processes by better quantifying our understanding of our landscapes. The discourse at the congress highlighted how landscape architecture can contribute to an interdisciplinary approach and appropriate the use of technology, and in doing so, offer practical solutions and new concepts to address the many daunting challenges brought about by climate change, urbanisation and new social aspirations.
Future Resilience

This theme expounded on the understanding of how landscape architects play a role to overcome compromised critical infrastructure systems within the city. Increasingly, landscape architects work beyond their disciplines to develop frameworks, concepts and tools with other fields of expertise to overcome challenges that threaten the loss in biodiversity, inundation, and other environmental conflicts. The sessions during the congress presented the ways of ensuring that these systems continue to operate and stay robust despite increasing threats, as well as designing with limited resources.
Previously Published Happening