Sep - Oct 2016
Winners Announced for Design Capital 21 Competition
September 6, 2016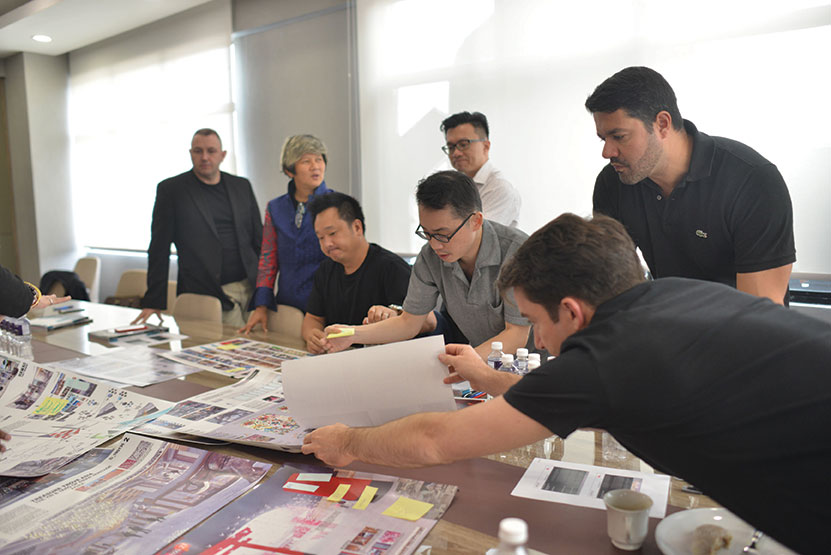 On 22 June 2016, winners of the Design Capital 21 competition were announced at a press conference held at the office of Capital City Property Sdn Bhd, Johor Bahru, Malaysia.
Design Capital 21 was an interior design competition for a new integrated mall called Capital 21. The mall intends to adopt as its conceptual design the theme of the world's famous capital cities from the five continents. Each floor must be representative of the continent by bringing to life the characteristics and identities of its capital cities. The competition was opened to licensed architects and professional interior designers worldwide, to both individual and team entrants.
After an intensive two-day jury meeting, the jurors selected the following winners for each of the five floors. Each winner won prize money of USD10,000, a two-year subscription to FuturArc magazine and a trophy.
Siow Chien Fu, founder and executive director of Capital City Property Sdn Bhd, remarked, "When the proposal for Capital City was first put forward in 2013, we wanted to realise the idea of having each floor of the mall to be a representative continent that encapsulates the essence of its capital cities. I believe that to get great design ideas, we need to broaden our horizons. Hence, we decided to host an international competition, Design Capital 21, to select the most outstanding designs. Candice and I started talking back in September 2015 to put this competition together. I'm happy to see the results being finalised, and we are excited to talk to the winners to take their ideas to the next step for Capital 21."
Candice Lim, managing editor and publishing manager of BCI Asia Construction Pte Ltd, noted, "It was a pleasant surprise to see that some of the winners come from different countries or continents that they have designed for and won. This shows that good designs transcend international boundaries."
The international panel of jurors commended on the exceptional design concepts that the winners brought to the competition, and all were in agreement that to create a successful Capital 21, factors such as leasing strategies and overall branding of the mall must be considered alongside the actualisation of the winning designs.
Capital City Property Sdn Bhd is currently developing Capital 21. It is part of a massive integrated development located on Lot 1132, Jalan Tampoi, Kawasan Perindustrian Tampoi, Johor Bahru, Malaysia. Measuring 10 acres, it comprises a 32-storey international hotel with 315 rooms; a 32-storey tower with 630 units of serviced suites; and three 29-storey towers of serviced apartments with a total of 690 units, which sit on top of Capital 21 with an entertainment hub.
Please visit https://www.designcapital21.com/index.cfm/results/ for a closer look at the winning and merit entries. For more information, please email [email protected].
BCI Asia is the official organiser of Design Capital 21 for Capital City Property Sdn Bhd.
Design Capital 21 is presented by the following:
Platinum Sponsors: Dulux; Rockfon; Al-Manah Engineering (M) Sdn Bhd; and AWC Engineering
Gold Sponsor: Utracon
Bronze Sponsor: Industrial Concrete
Previously Published Happening