Jul - Aug 2017
BuildTech Yangon 2017 synergises the development of a Green Network in Myanmar
May 31, 2017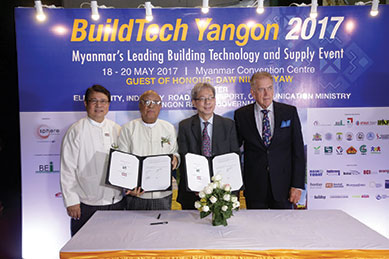 The 4th edition of BuildTech Yangon concluded on 20 May 2017 after three days of industry discussions, international dialogues, commercial engagements and knowledge sharing. Organised by Sphere Exhibits, a subsidiary of Singapore Press Holdings (SPH), and co-organised by the Myanmar Construction Entrepreneurs Association (MCEA), BuildTech Yangon 2017 is the leading industry event that focused on the value chain for the build environment sector in Myanmar.
The event was graced by guest of honour, U Zaw Aye Maung (Minister of Ethnic Affairs, Ministry Yangon Region Government) and was attended by high-profile delegates, dignitaries and key decision makers. BuildTech Yangon focused on Green buildings, key solutions and technologies, as well as the redefinition of the local building and construction sector. It took on a focused approach in addressing key policies and developments of the country's urban development. Myanmar's Green Building Committee and regional Green building councils held meetings on the sideline of the event to strengthen ties and spearhead support and collaborations within this sector. A Memorandum of Understanding between MCEA and the Singapore Institute of Building Limited (SIBL) was renewed to further extend their collaboration in advancing the industry.
Advancing the Green Building Network in Myanmar
A highlight this year was the inaugural Green Building Conference, an innovative two-day event designed to help nurture sustainable evelopment whilst fostering the formation of a National Green Building Council in Myanmar. The World Green Building Council (WGBC) participated in BuildTech Yangon for the first time this year, and held several meetings with local industry associations to discuss the development and nurturing of Myanmar's Green building movement.
Joelle Chen (Regional Manager, Asia Pacific Network, WGBC), who was one of the keynote speakers at the conference, shared, "Myanmar is an exciting frontier market and we are glad that it has taken its first steps in the Green building movement through this conference. We hope that through the conference and the support it has received, we will spur sustainable development and Green growth in Myanmar, on their own terms, to achieve Green buildings for everyone, everywhere."
Delegates to the Green Building Conference had access to sessions on a range of topics that included cases studies on recent Green projects and introductions to Green buildings and architecture. Panel discussions with a wide range of experts on the topics of Regulations, Certifications and Policies Adapted to Climate Change, as well as Innovative Solutions Towards a Greener Yangon were well received.
Dr Swe Swe Aye, chairman of the Green Building Committee, Building Engineers Institute of Myanmar and co-organiser of the Green Building Conference, commented, "Myanmar is in a transitional stage and trade and knowledge-building platforms such as BuildTech Yangon provide an excellent introduction to inspire the industry and motivate relevant authorities in systematically implementing and adopting the relevant and necessary rules, regulations and technologies that are relevant to Myanmar's context."
Delegates and visitors also saw the latest Green technologies as well as sustainable and energy-efficient solutions at the Green Pavilion. Participating companies from China, India, Italy, Malaysia, Myanmar, Singapore, South Korea and Thailand showcased a wide array of innovative products, solutions and materials on the trade floor. In addition, some 1,000 guests attended the MCEA annual gala that took place on 19 May 2017. Awards were given to young construction entrepreneurs for their exemplary contributions to the industry and community.
For more information, please visit www.btyangon.com/en.
Previously Published Happening