Nov - Dec 2018
Building Green 2018
December 28, 2018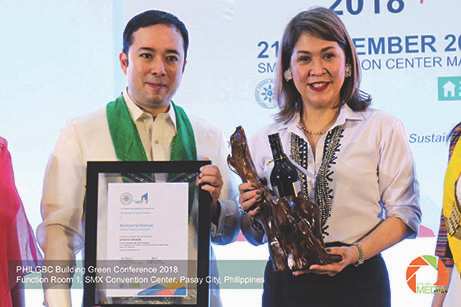 The Building Green (BG) conference is the Philippine Green Building Council (PhilGBC)'s annual event for nationwide awareness campaign on Green building. The theme for this year was Global Collaborations for a Greener and Sustainable Built Environment.
During BG2018, the industry benchmarked on building better together— synergistically advancing with greater industry collaborations and global cooperation for a sustainable and Greener built environment. The conference featured three key panel sessions: Government Greening Programs, Local and International Cooperation in Advancing Energy Efficiency, as well as Green Homes – Building Better for the Next Generation, which showcased greening efforts in housing from the government and private sector, as well as products and technologies that promote green homes.
Ramon Rufino, chairman of PHILGBC Board of Trustees and co-president of The Net Group, gave his welcoming speech to participants, guests, partners, speakers and supporters at the BG2018. Rufino emphasised the importance of continued collaborations "as we transform our built environment to a greener, healthier and better place for the people and the planet."
"No matter what part of the industry you're in, there is something you can do. Whether a small or large scale, it does not matter. What I hope today is that each one of you take that concrete step, that concrete commitment to try and go Green, and together we will continue to push the greening of our environment and to a more sustainable Philippines for future generations," he said.
"We really want people to realise that even in our homes, we can start to see the benefits and the value of sustainability and going Green. Each one of us doesn't have to look very far," he elaborated.
Speaking on behalf of Hon. Sec. Emmanuel De Guzman of the Climate Change Commission, Montserrat Romulo, consultant of the Climate Change Commission and keynote speaker at the BG2018, reiterated the partnership between the government and the private sector in ensuring a sustainable future.
"It is our collective responsibility to future generations to ensure that the buildings within which they live and dream are built in harmony with the Earth," she commented.
One of the highlights of BG2018 is the PHILGBC Awards, which are designed to showcase and celebrate the achievements of movers in the building and construction industry in the country, as well as to highlight their Green building leadership both locally and internationally. The PHILGBC Awards have three categories: Business Leadership in Sustainability, Leadership in Sustainable Design and Performance, and Women in Green Building Leadership Award. The winners are Arthaland Corporation, Net Park developed by The Net Group, and Atty. Maria Cristina Samson, co-president of The Net Group, respectively.
Previously Published Happening