2021
Bridging knowledge for a sustainable future
April 1, 2021
The Central Library at National University of Singapore (NUS) now features a new addition. Known as the BookBridge, it houses the library's rare book collection that needs to be stored in a controlled environment.
Designed as one of several central art pieces for the Central Library, the BookBridge is a first-of-its-kind bookshelf made from tropical Mass Engineered Timber (MET), a renewable, sustainable building material for architecture. This was designed and developed by a team led by Associate Professor Shinya Okuda from the NUS School of Design and Environment's (SDE) Department of Architecture.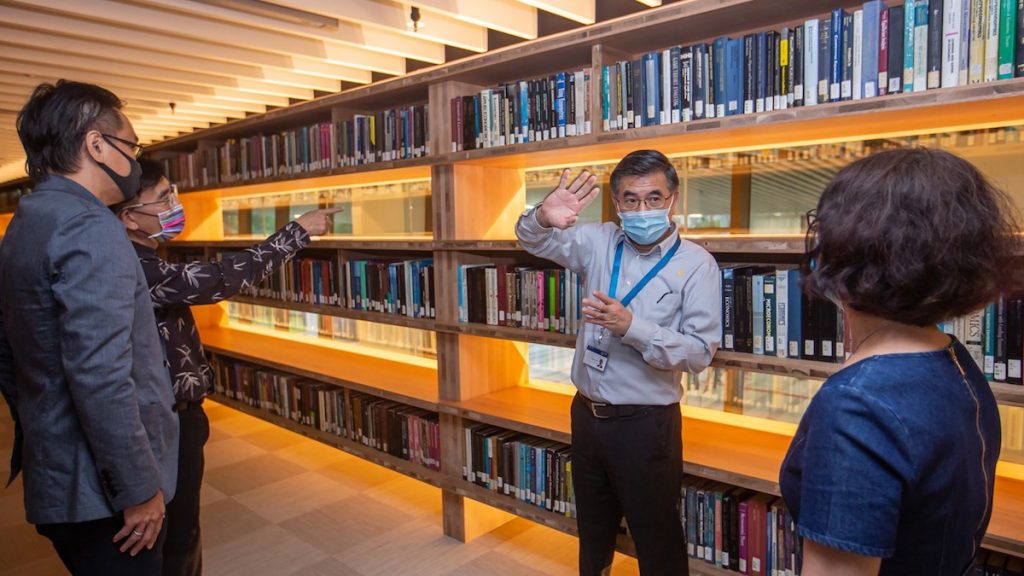 Photo courtesy of NUS.
Designed with sustainability in mind
"Due to year-round sunlight, some plantation species in the tropics may grow several times faster than those in temperate climates. Currently, most of their use is limited to furniture, plywood, pulp and chips, and not as structural timber components. Tropical MET can retain substantial quantities of atmospheric carbon in solid status for the long-term, becoming an effective carbon sink and a true game-changer in the global warming era," said Assoc Prof Okuda.
According to the Building and Construction Authority (BCA), MET in general has five times more strength to weight ratio than concrete, which may speed up construction time by up to 35 per cent. One cubic metre of timber, depending on its density, could also lock one tonne of atmospheric carbon dioxide in solid form. The BookBridge was made from 7 cubic metres of tropical MET.
As the rare book collection is meant for long-term display, a key engineering challenge was to minimise the long-term deflection of the timber shelves, expected under gravity load. To mitigate this issue, the SDE team worked with structural engineers to strategically design the timber shelves with built-in camber to counter the effects of the calculated deflection.
All MET components were digitally fabricated with a computer numerical control milling machine in Singapore, which enabled the level of precision required for the BookBridge project.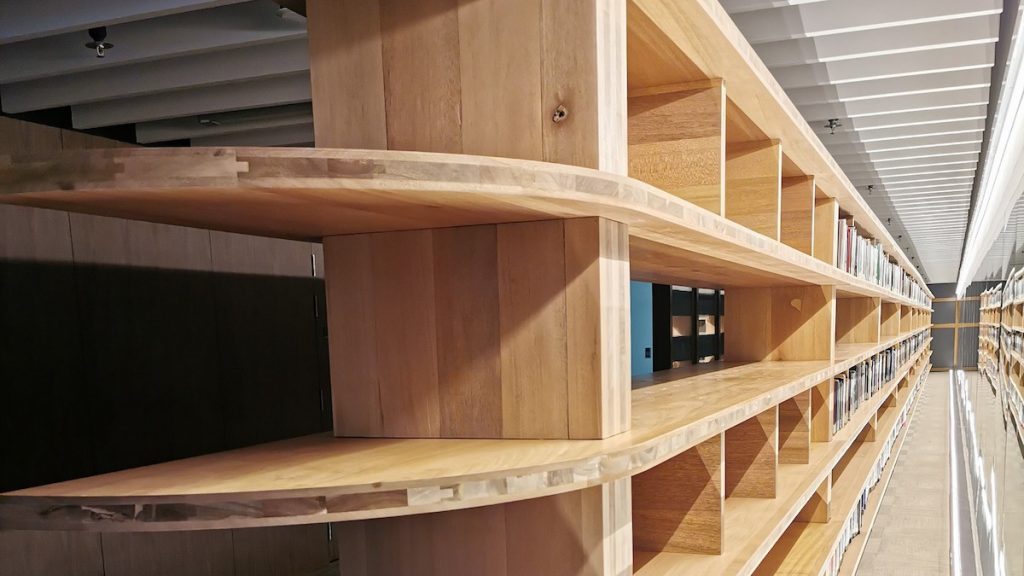 Photo courtesy of NUS.
Two types of fast-growing plantation timber were used:
Five-layer cross laminated timber (CLT) columns made of jabon wood that was developed by the SDE team under the Ministry of National Development Research Fund
Three-layer composite shelves consisting of acacia as inner layers and Forest Stewardship Council (FSC) certified meranti wood as outer layers
The bookshelf has the following details:
31 metres in length
0.6 metres in depth
2.1 metres in height
3.6 tonnes
Shelving supports placed about 3.1 metres apart
Potential for tropical MET use in construction
When asked about potential synergies with Singapore's Green Plan 2030, Assoc Prof Okuda shared, "It would require further coordination and collaboration across the forestry, logistics, manufacturing and regulatory sectors to establish the commercial supply chains of tropical MET. However, a successful development of tropical MET that can fully comply with Eurocode requirements will have high potential to be used in the construction sector in Singapore and across Southeast Asia. As our tropical plantation grows faster, the Southeast Asian region will have the potential to contribute significantly to global warming mitigation strategies, and ultimately promote symbiosis between sustainable forestry and urbanism in the region."
SDE Dean Professor Lam Khee Poh shared, "The research and development of tropical MET and its application in design is a highly inter-disciplinary and integrated endeavour. We hope that all NUS students would be able to view the BookBridge and be inspired by such a functional work of art that is technically sophisticated, while imbuing them with a positive attitude of interdisciplinary and collaborative learning."
Lee Cheng Ean, the NUS University Librarian who initiated the collaboration with the SDE team, said, "The BookBridge houses our valuable historical rare book collection. It takes centrestage in the NUS Central Library transformation project while actualising the practical use of tropical MET in design. The project also symbolises one of our missions of 'bridging knowledge'. We are very pleased with BookBridge's design philosophy and aesthetically pleasing sturdy installation, which fills our senses with the serenity of the sustainable tropical forest."
The BookBridge will be accessible by appointment when the Central Library officially re-opens in September 2021.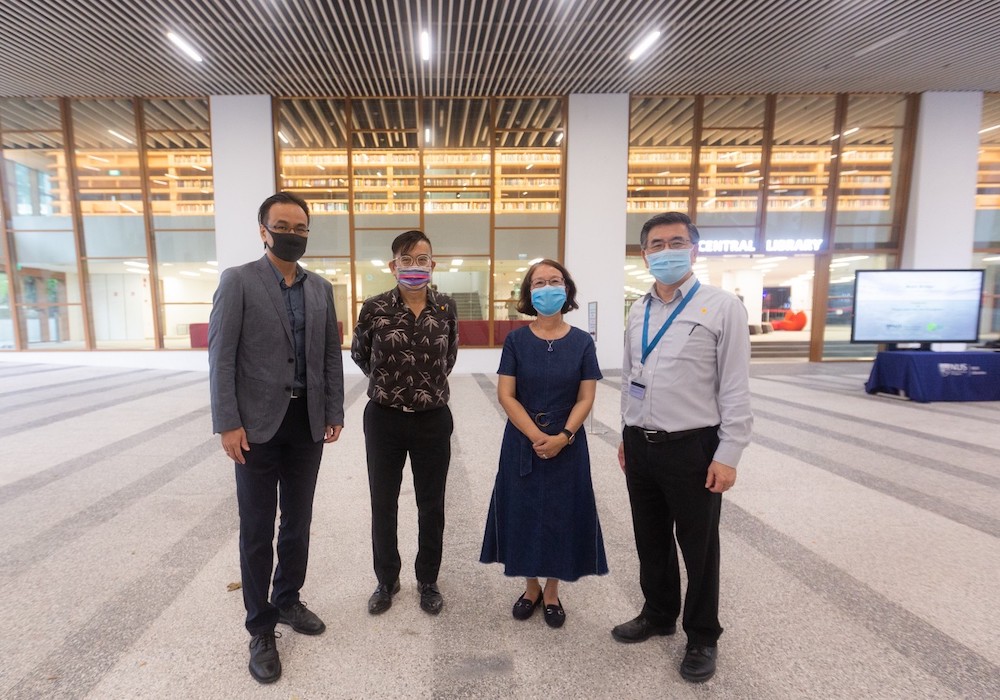 Present at the launch of BookBridge yesterday were (from left): Assoc Prof Okuda; Head of SDE's Department of Architecture Prof Ho Puay Peng; Mrs Lee and Prof Lam.
Photo courtesy of NUS.
---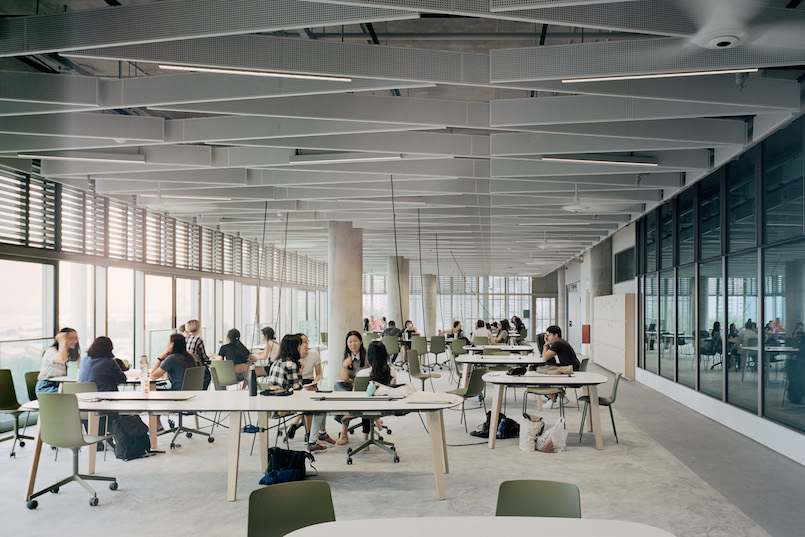 Previously Published Happening