3rd Quarter 2021
Book launch of Paramit: Factory in the Forest on industrial biophilic design
September 27, 2021
Industrial buildings are generally taken for granted to be unattractive and furthermore destructive, often forgoing environmental stewardship in the name of minimising costs. These assumptions are upended in the design of Paramit: Factory in the Forest project, which was conceived for the electronics manufacturing company's facility in Penang. True to its name, the building on the 5-acre site is conceived first and foremost against the backdrop of the forest, interacting with Nature as a way to reduce energy usage and to breathe soul into the place. This led to the project winning FuturArc Green Leadership Award in the Commercial category back in 2018.
The 144-page hardcover monograph of Paramit: Factory in the Forest, launched in August 2021, chronicles the journey of this Green industrial building. The book covers various facets of its creation, beginning with the first-hand account of Paramit CEO Billoo Rataul's challenges, fortuity and fortune in the pursuit of energy innovation and landmark design. From the outset, Paramit wanted to have an energy-efficient and climatically responsive building. The cardinal sustainable design principles were energy efficiency, water efficiency, daylighting and biophilia—seen as fundamental human needs to connect with Nature.
The factory's design takes centre stage, as narrated by John Bulcock of Design Unit Architects, Gregers Reimann of IEN Consultants, and the project team. From a Green vision and an architecture of nature to structure and systems integration, the book captures the breadth of this ambitious project. Filled with photography, concept sketches and rendered drawings, the pages detail the building's marathon road from conception to completion, unravelling its remarkable performance with easy-to-read diagrams and infographics.
Paramit: Factory in the Forest is a showcase of best practices in Green architecture and engineering in the pursuit of sustainable goals. It is a useful reference for students and professionals alike, and serves as an informative primer for the 21st-century industrial building informed by climate engineering, biophilic sensitivity, environmental stewardship and sustainability that is intrinsically human at its core.
The book can be ordered through the following link:
www.ien.com.my/paramit-monograph/futurarc.
---
Read more Industrial Architecture stories below:

Jakob Factory | FuturArc
Jakob Factory is the first project in Vietnam proposes completely naturally ventilated manufacturing halls.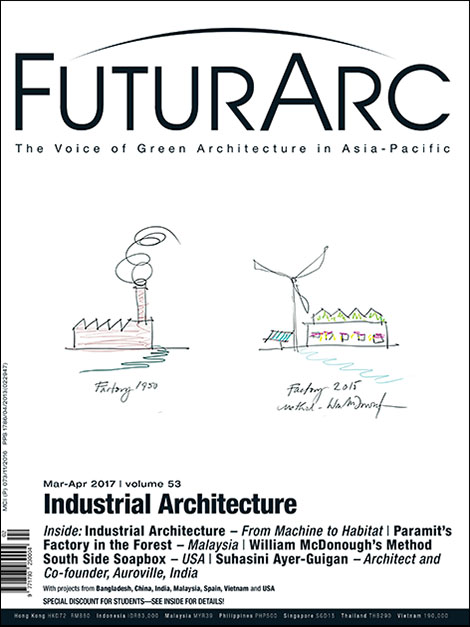 Industrial Architecture | FuturArc
Industrial growth brings jobs but, if poorly regulated, it comes at an environmental and human cost—especially at the bottom end of the manufacturing pyramid. People living in informal settlements often depend on factories for jobs, the same ones that spew waste into the waterways. This issue examin…
Previously Published Happening