Jan - Feb 2018
Biophilic Design Award
February 28, 2018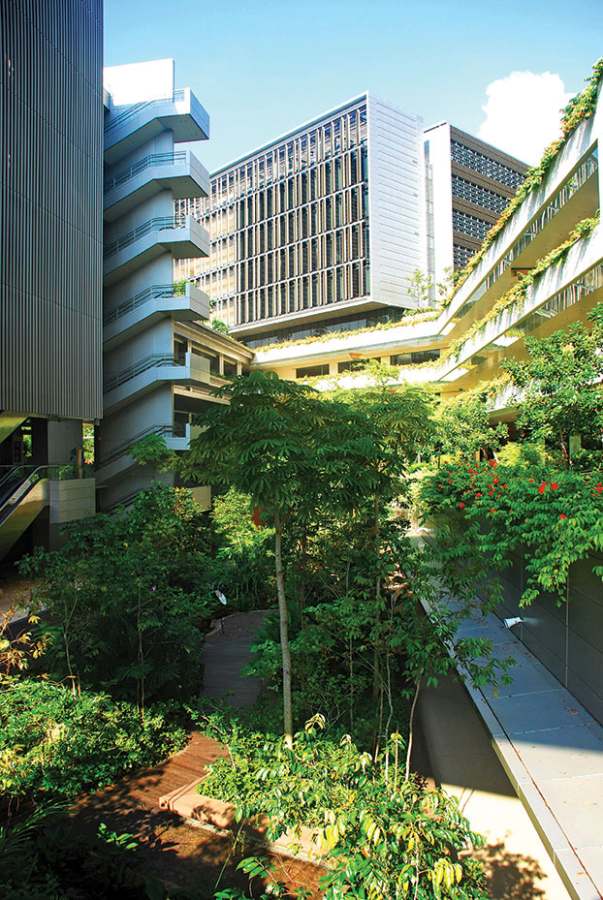 In memory of Stephen R. Kellert's legacy as a pioneer in articulating and applying biophilic design principles to the built environment, the Biophilic Design Award was offered for the first time in 2017 through the International Living Future Institute's Biophilic Design Initiative. Kellert's advocacy has encouraged widespread adoption of the practice.
Six biophilic design elements Submitted projects were judged based on the integration, expression, experience and the evaluation of biophilic design. Each submission included a description of the biophilic design process, as well as the integration of the six biophilic design elements and the attributes contained within them:
Environmental features
Natural shapes and forms
Natural patterns and processes
Light and space
Place-based relationships
Evolved human-nature relationships
Award winner: Khoo Teck Puat Hospital, Singapore
"Khoo Teck Puat Hospital surpasses traditional hospitals and opens the door towards a new kind of building type for the healthcare industry, which considers how the built and natural environment can become part of the healing process," said juror Amanda Sturgeon, FAIA, LEED Fellow (chief executive officer, International Living Future Institute). "Our hope is that by recognising projects like this, Mr Kellert's legacy lives on as we celebrate the ways that we can reconnect people and nature through buildings."
"What is most impressive about this project is its post-occupancy evaluation, which sampled a group of 200 users comprising patients, staff and visitors, whom 80 per cent responded yes to hospitals investing in implementing biophilic elements," said juror Stephen Kieran, FAIA, LEED AP BD+C (founding partner, KieranTimberlake).
The hospital has a Green Plot Ratio of 3.92—the total surface area of horizontal and vertical greenery is almost four times the size of the land that the hospital sits on. Greenery extends from the central courtyard to the upper levels of the buildings and down into the open-to-sky basement. At the upper levels, balconies with plants bring nature to the patient's bedside.
Water features with aquatic species and plants that attract birds and butterflies were introduced. In addition, 18 per cent of the hospital's floor area account for its blue-green spaces, of which 40 per cent are publicly accessible. In response to the tropical climate, patient rooms, main lobby and public corridors were specially designed for optimal natural ventilation to enhance comfort and reduce the need for mechanical ventilation and energy consumption.
Honourable mentions
• Phipps Center for Sustainable Landscapes, Pittsburgh, Pennsylvania
• Etsy Headquarters, New York City, New York
• COOKFOX Architects Studio, New York City, New York
• Yanmar Headquarters, Osaka, Japan
For more information, please visit https://living-future.org/biophilic/ case-studies/award-winner-khoo-teck-puat-hospital/#biophilic-designintegration.
Previously Published Happening