May - Jun 2018
Balkrishna Doshi receives the 2018 Pritzker Architecture Prize
June 28, 2018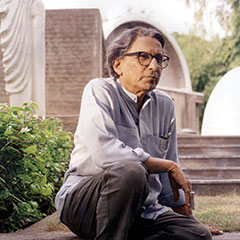 Professor Balkrishna Doshi, India, has been selected as the 2018 Pritzker Architecture Prize Laureate, announced Tom Pritzker, Chairman of Hyatt Foundation, which sponsored the award that is known internationally as architecture's highest honour.
Architect, urban planner and educator for the past 70 years, Professor Doshi has been instrumental in shaping the discourse of architecture internationally and throughout India. Influenced by masters of architecture in the 20th century, Charles-Édouard Jeanneret (known as Le Corbusier) and Louis Khan, Professor Doshi has been able to interpret architecture and transform it into built works that respect Eastern culture while enhancing the quality of living in India. His ethical and personal approach to architecture has touched lives of every socio-economic class across a broad spectrum of genres since the 1950s.
"My works are an extension of my life, philosophy and dreams trying to create treasury of the architectural spirit. I owe this prestigious prize to my guru, Le Corbusier. His teachings led me to question identity and compelled me to discover new regionally adopted contemporary expression for a sustainable holistic habitat," commented Professor Doshi.
Professor Doshi's architecture explores the relationships between fundamental needs of human life; a connectivity to self and culture; as well as an understanding of social traditions within the context of a place and its environment, and through a response to Modernism. He describes architecture as an extension of the body, and his ability to attentively address function while regarding climate, landscape and urbanisation is demonstrated through his choice of materials, overlapping spaces as well as utilisation of natural and harmonising elements.
"Doshi has said that 'Design converts shelters into homes, housing into communities, and cities into magnets of opportunities'", commented Pritzker. "The life's work of Balkrishna Doshi truly underscores the mission of the Pritzker Architecture Prize, demonstrating the art of architecture, and is an invaluable service to humanity. I am honoured to present the 40th anniversary of this award to an architect who has contributed more than 60 years of service to us all."
Professor Doshi´s architecture is both poetic and functional. The Indian Institute of Management (Bangalore, 1977–1992), inspired by traditional maze-like Indian cities and temples, is organised as interlocking buildings, courts and galleries. It also provides a variety of spaces that is protected from the hot climate. The scale of masonry and vast corridors infused with a campus of greenery allow visitors to be simultaneously indoors and outdoors. As people pass through the buildings and spaces, Professor Doshi invites them to experience their surroundings and also suggests the possibility of transformation.
The 2018 jury citation states, in part, "Over the years, Professor Balkrishna Doshi has always created an architecture that is serious, never flashy or a follower of trends. With a deep sense of responsibility and a desire to contribute to his country and its people through high quality, authentic architecture, he has created projects for public administrations and utilities, educational and cultural institutions, and residences for private clients, among others." The jury continues, "Doshi is acutely aware of the context in which his buildings are located. His solutions take into account the social, environmental and economic dimensions, and therefore his architecture is totally engaged with sustainability."
Professor Balkrishna Doshi is the 45th Pritzker Architecture Prize Laureate, and the first to hail from India. The 2018 Pritzker Architecture Prize ceremony commemorates the 40th anniversary of the accolade, and will take place at the Aga Khan Museum in Toronto, Canada, in May. The Laureate will present a public lecture, in partnership with the John H. Daniels Faculty of Architecture, Landscape and Design at the University of Toronto on 16 May 2018.
Previously Published Happening