Jan - Feb 2018
Asia Clean Energy Summit (ACES) 2017
February 28, 2018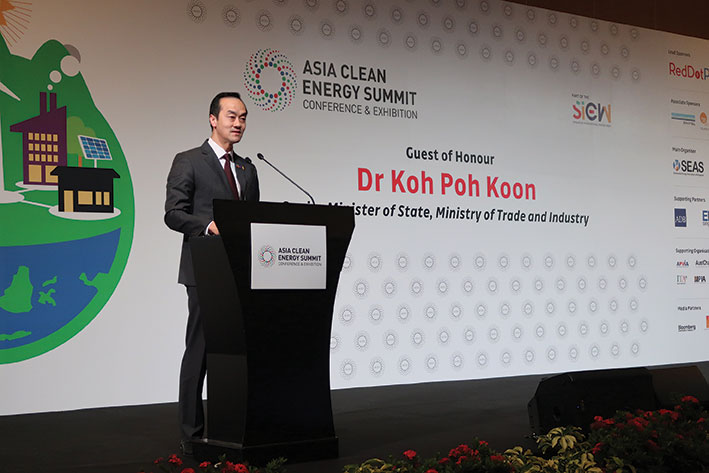 Harnessing clean energy for the future
Organised by the Sustainable Energy Association of Singapore (SEAS), the Asia Clean Energy Summit (ACES) was held from 24 to 26 October 2017. Billed as Asia's leading event focusing on clean energy technology, policy and finance, ACES 2017 attracted more than 2,500 participants from over 53 countries. Now in its fourth year, ACES aims to provide a platform for regional thought leaders from both the public and private sectors to discuss the current use of clean energy technologies and how these can be further harnessed for the future.
The event highlighted Singapore's vision of being a leading clean energy hub in Asia and beyond. "We welcome companies from around the world to work together with us to be at the forefront of energy transformation and develop solutions for a fast-growing region," said Dr Koh Poh Koon, Senior Minister of State, Ministry of Trade and Industry, who officiated the event.
In his speech, Dr Koh announced that Singapore's Economic Development Board (EDB) recently secured six new clean energy investments. Encompassing the fields of solar, microgrids, energy storage and digital technologies, the new projects are expected to create more than 400 professional jobs and bring about SGD500 million in business spending over the next five years.
ACES 2017 comprised seven major sessions:
Clean Energy Leaders' Dialogue
This high-level forum gathered top leaders to exchange best practices and discuss trends in the clean energy industry. There will be three major trends to follow, namely, integration of various clean energies, decarbonisation and digitalisation with new technologies, which many experts believe will have the biggest impact.
Solarising Singapore and Asia
Participants discussed how Singapore and other Asian countries could leverage on their strategic location in the Asian Sunbelt, a region that receives up to 50 per cent more sunshine than countries in temperate regions. The potential for adopting solar and other renewables remains large—the Association of Southeast Asian Nations (ASEAN) plans to increase double energy contributions from this sector by 2025.
Digital Transformation of Energy
Speakers addressed the global ambition of building smart cities and how to advance technologies related to renewable energies. Discussions centred around how the Internet of Things (IoT) will merge the physical world with the virtual one, causing a decentralisation of power.
International Floating Solar Symposium (IFSS)
This year marked the inaugural session of IFSS. With panels installed in nearly 25 countries worldwide, providing more than 65 kilowatts of energy alone in 2017, floating solar has become the third pillar of solar energy, after ground-mounted and rooftop-installed panels. Many countries are now considering the benefits that come with installing panels on reservoirs and open seas, which include minimal land constraints, higher efficiencies and shading effects, among others.
Financial Summit
The three panel discussions revolved around the development, funding and investment of renewable energy projects; as well as the solar energy project development and system ownership. Other panel discussions explored the energy road map in Asia, with industry experts weighing in on issues such risk assessment, changing business models, bankability challenges, and current regulatory environments.
Asian Conference on Energy, Power and Transportation Electrification (ACEPT) The second edition of ACEPT saw a total of 15 sessions, as well as a mix of tutorials and paper presentations. Topic discussed included smart grid integration of renewable energy, microgrids and energy storage. Speakers also shared their technical expertise on materials and components, as well as how to generate and distribute power in aircraft systems, among other topics.
PV Asia Scientific Conference
This conference provided a platform for scientists and engineers to showcase their latest developments in solar photovoltaics, and to share about the methods to enhance efficiencies and performance of these cells. The next edition of ACES will take place on 31 October to 2 November 2018.
Previously Published Happening