Mar - Apr 2016
Ashui Awards 2015
March 6, 2016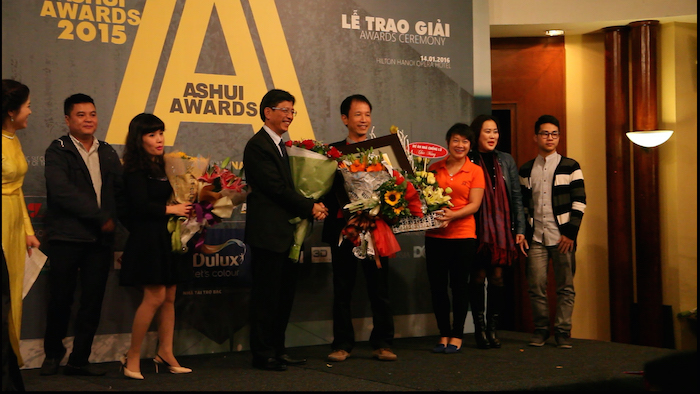 The 2015 Ashui Awards ceremony was held on 14 January 2016 at Hilton Hanoi Opera Hotel. This awards ceremony for architects and buildings has been organised annually since 2012. This year, Ashui Awards had two new categories: the Contractor and the Developer of the Year. The council selected official nominees in a voting process, which was held from 10 to 31 December 2015. Overall results were based on public selection through the official website (https://ashui.com/awards) and the judging council.
With 54.7 percent of votes, Hoang Thuc Hao, co-founder and lead architect of 1+1>2, received the Architect of the Year 2015; Naman Spa—which was designed by MIA Design Studio and located within the Naman Retreat Resort in Ngu Hanh Son District, Da Nang—was awarded Building of the Year 2015, with 41.7 percent of the votes; Sieu Chung Ky JSC was honoured as Contractor of the Year 2015, with 40.25 percent of the votes; and Developer of the Year 2015 award went to Kien A Group, with 50.65 percent of the votes.
The Ashui Awards was supported by the Vietnam Urban Planning and Development Association (VUPDA). The aim of the awards is to honour architects who have designed or built showcase structures, highlight the professionals who are examples for all, honour those who contribute to the architecture and environment in Vietnam; and provide accolades to the new and valuable buildings and constructions.
Previously Published Happening