2020
Achieving inclusive and resilient growth
November 5, 2020
Deputy Prime Minister, Coordinating Minister for Economic Policies and Minister for Finance, Heng Swee Keat, charted the path to recovery for Singapore and explained how the country's medium-term economic strategy will evolve to achieve inclusive and resilient growth.
DPM Heng also provided an update on the overall response to COVID-19, and outlined a three-pronged approach to a refreshed economic strategy that builds on the Industry Transformation Maps:
Remaking Singapore as a Global-Asia node of technology, innovation and enterprise
Redoubling our efforts to foster inclusive growth
Investing in economic resilience and sustainability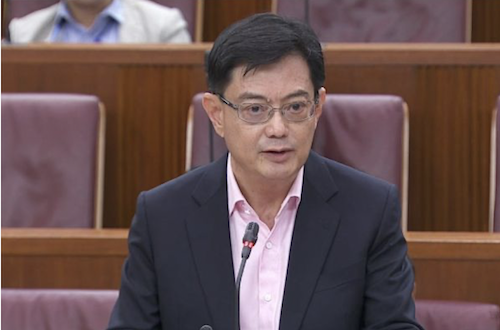 Investing in Economic Resilience and Sustainability as a Source of Growth
Economic resilience is not a new idea for Singapore. We have achieved resilience through a diversified economic structure, with multiple engines of growth. No one industry accounts for much more than 20 per cent of our GDP, so we do not put all our eggs in one basket.
We thus entered the COVID-19 pandemic on a relatively strong footing. We were able to ensure sufficient medical supplies and essential goods for our public and healthcare workers because we had a strategic national stockpile in place, supported by a combination of local production of essential supplies, and a diverse network of trading partners.
Nonetheless, COVID-19 exposed vulnerabilities across the world. Beyond essential goods, critical inputs for industrial production and access to workers were cut off due to global work stoppages and travel bans. Demand also ground to a halt in many industries.
Economic Resilience
We must therefore act now to improve our economic resilience. In doing this, we may have to creatively combine the efficiency of having things ready "just in time" with the resilience of building buffers "just in case". Will this drive for resilience come at the expense of growth and efficiency? Not necessarily so. For example, firms that embrace technology raise not only productivity, but also resilience.
One key way to enhance our resilience and to grow is to produce essential supplies locally, which can be used both for local consumption and export. One example is medical supplies, such as masks and test kits.
Another example is food. We set ourselves the ambitious "30 by 30" goal of producing 30 per cent of our nutritional needs locally by 2030, up from less than 10 per cent today. Our agri-food sector will enhance our resilience to food supply disruptions. The technology developed in support of this strategy, such as in seeds and alternative proteins, can be exported. We can grow these capabilities, building on our strengths in R&D and our standing as a trusted hub. Singapore is already the global R&D centre for AgriProtein, one of the world's leading insect protein companies. The R&D team develops technologies to upcycle food waste into sustainable animal feed solutions.
Sustainability
As we grapple with climate change, environmental sustainability is an important aspect of our economic resilience for a low-carbon and resource-constrained future. Here again is an opportunity for the Green sector to be a growth industry in its own right, and to power our economy.
First, we are transforming our industries to build a sustainable economy.
a. We will continue to invest in research into energy and resource efficiency technologies, and encourage adoption of these technologies through various incentives under EDB, EMA, BCA and NEA.
b. Going forward, we will further promote the decarbonisation of the economy and pursue initiatives for a more sustainable economy.
Under our Zero Waste Masterplan, we will promote the circular economy, and support businesses to turn "trash to treasure" – namely, to recycle or transform waste into useful inputs for production. Harnessing the circular economy model, JTC is working with companies on Jurong Island to build a more sustainable Jurong Island.
We are increasing our deployment of renewable energy sources, such as solar energy, at both the national and industry level.
And we will invest in new capabilities and solutions such as hydrogen and carbon capture, utilisation and storage to complement our existing R&D efforts. In time, we hope that these promising technologies can become commercially viable decarbonisation pathways in future.
Even as we transform our existing industries, we are seeking new business opportunities in the green economy, given our region's growing needs for sustainable development.
a. We will establish ourselves as a carbon services hub in Asia.
Efforts to limit the growth of carbon emissions will increase the demand for engineering, legal, and consultancy services related to carbon. The Alliance for Action for Sustainability is market-testing some concepts and business opportunities.
b. Finance is also an important enabler of green growth. We are developing financing solutions and markets in Singapore to help firms finance their adoption of more sustainable practices under MAS' Green Finance Action Plan.
Taken together, our moves to strengthen our economic resilience and sustainability serve a dual purpose. They strengthen our economy so that we can bounce back quickly and better from shocks, while adding to our value proposition as a vital global node in Asia. In turn, all these initiatives will create many new opportunities and valuable jobs for our people.
Previously Published Happening