Commercial / 3rd Quarter 2019
Shanghai Greenland Center
At first glance, one would not think that Shanghai's largest urban park belongs to a shopping mall. The 20,000-square-metre green slope—named Urban Farm—is designed in such a way that the boundaries between the inside and outside have been blurred, creating a lush and spacious arena not only for shoppers but also for the neighbouring community, allowing them to be closer to nature, and contributing to improving their health and well-being.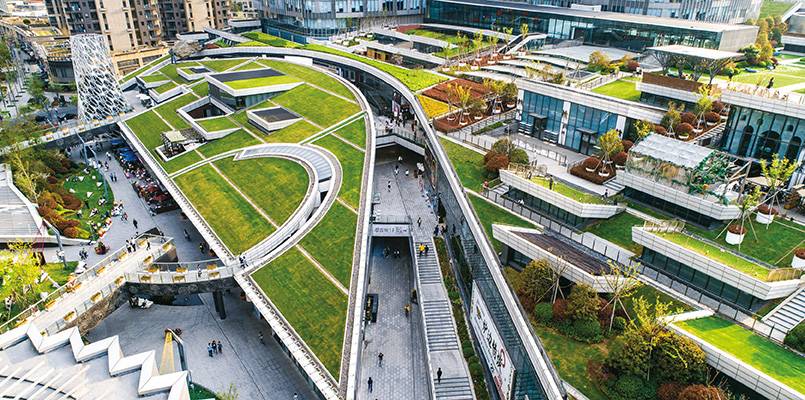 The project started in 2009, when the architects were concerned about what people's need for space would become in 10 years' time. Hence, they came up with the proposal to "return to nature", counteracting the growth of high-rise urban developments that are engulfing Shanghai. The architects convinced and collaborated with local architecture offices and construction companies for this project, which is commendable in its allocation of a substantial amount of space to the public and greenery, yet still retaining its commercial features of a shopping complex. Now, it is one of the most popular public spaces in the heart of Shanghai, where the daily number of visitors are 1.5 times more than the nearby shopping malls.
TERRACED GREEN ROOFS
Taking reference from Shanghai's traditional 'tiger windows', this high-density urban valley complex, complete with a street landscape park, has distinctive terraced roofs. Massive green spaces are planned on-site, with plenty of small terrains for activities scattered on a cascading roof that is split into different scale and connected at various heights. These activity spots are weaved together three-dimensionally into a large urban public space, where outdoor terraces and slopes respond to the architectural functions below and human activities within it .
Previously Published Projects