Commercial / Jun - Aug 2017
Resorts and placemaking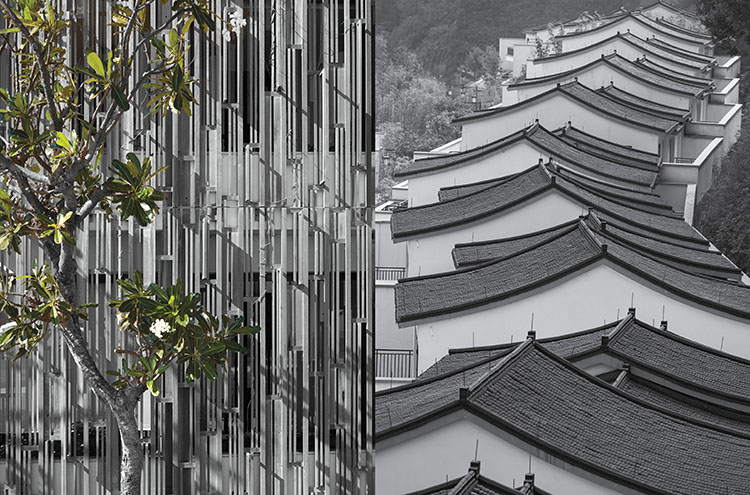 (Photo on the right) Close-up view of the bespoke vertical timber screen at Alila Seminyak
(Photo on the left) Sweeping dark-tiled roofs that reference traditional Chinese villages at Alila Anji
A getaway to a resort is an ideal vacation for travellers seeking to destress from their urban hectic lifestyle, especially one that is set in a serene landscape.
Not only do these resorts offer a respite for weary tourists, they attempt to fit into their localities and implement environmentally friendly initiatives that seek to conserve, respect and respond to the fragile sites. They communicate the idea of eco-tourism by offering recreational activities that are in line with the site's parameters, and offer community involvement in the construction and maintenance.

In this story, we feature two resorts that are built unobtrusively into ecologically sensitive premises, and look at how they aim to be restorative developments in their respective ways.
Project Name
Alila Anji
Location
The Meiziwan (Plum Tree Bay), Scenic Area, Hang Gai town, Anji County, ZHejiang Province, China
Completion Date
June 2016
Site Area
100 hectares
Number of Rooms
74 villas and suites
Client/Owner
MKH Properties
Architecture Firm
Beijing Zhong Waijiang
Main Constructor
Zhejiang Da Yun Construction
Images/Photos
Alia Hotels and rresots
---
Project Name
Alila Seminyak
Location
Bali, Indonesia
Completion Date
October 2015
Site Area
19,205 square meters
Gross Floor Area
38,350 square meters
Number of Rooms
240
Building Height
24 meters
Client/Owner
PT Anaamaya Mitra Selaras
Architecture Firm
URBNarc Pte Ltd
Principal Architect
Gaurang Khemka
Design Team
Alejandro Moran; Maverick Larlosa; Vebrayani valentina; Abhsibakek Mathur; Agung Pamujadi; Rika Iam; KArolina vainsnoraite; Anita Rahman
Landscape Consultant
Salad Dressing Pte Ltd
Main Constructor
PT Acset Indonusa Tbk
Mechanical &Electrical Engineering
Arman Pratama Consultants
Lighting Consultant
Hadi Komara &Associaltes
Images/Photos
Aaron Pcocok; Alita Seminyak; URBNarc Pte Ltd
Previously Published Projects