Residential / 3rd Quarter 2019
Healthy Haus
by SHAU Indonesia
Healthy Haus is a direct response to the urban living conditions of Indonesians, especially for those living around densely populated areas like Jakarta. The basic idea is to provide future residents with a house, which instead of being a 'machine' for living, becomes a 'machine' for well-being as an answer to pollution, hours spent in traffic jams, as well as other stressful, harmful impacts on the body and mind stemming from capitalism and the lack of enforcement of regulations limiting its adverse effects. In that sense, the house becomes a 'refugium'; literally a machine designed to filter and block out harmful external environmental effects, by producing its own interior microclimate (like a space station).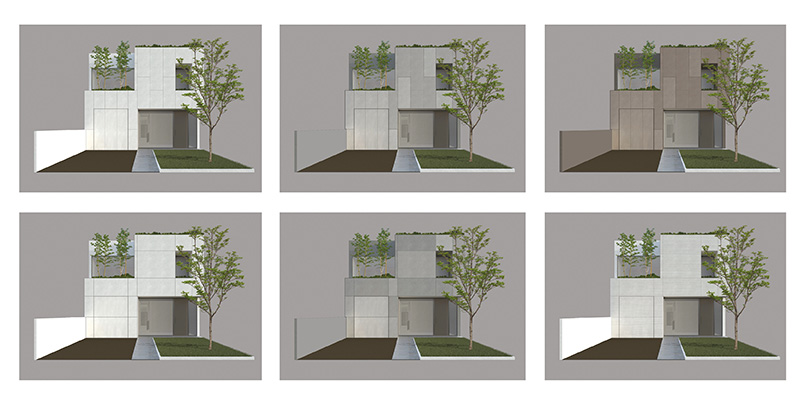 BACKGROUND
SHAU architects are aware that shoving the earlier mentioned problems to the level of individual responsibility, where a solution is mostly accessible to the more educated and affluent population, is a rather exclusive measure to treat the symptoms rather than the cause. This might be a radical step, but looking at the growing awareness in lifestyle, health concerns and interviews conducted by the design team with potential dwellers, this design solution could provide an answer for at least a certain part of the population.
Simultaneously, apart from Jakarta with its high land prices, high-rise apartments are not a well-accepted form of dwelling and the individual low-rise home is still the most desired in Indonesia. But even in the case of the capital city having a constant stream of migration and thus population growth, the surrounding outskirts like Tangerang or Bekasi are also seeing a massive development of new towns, providing for the commonly desired, individual transport-based, single-family home lifestyle. Adding all sorts of facilities (like business and office parks, hospitals, universities, etc.) further enhances this, making these new towns quasi-autarkic, where one does not have to leave unless the job demands it.
DESIGN
Therefore, the design, layout and gross floor area of the house are modelled after carefully studying existing residential homes to provide a solution that is highly acceptable for the local market, but also offers additional benefits, namely a healthy living environment that could be well integrated into existing real estate development mechanisms. Thus, the project is a further development of existing housing typologies (e.g., four-bedroom models are expected in this market segment) around a courtyard, with the potential to combine to form row houses and larger clusters. Since the project is still in the making, it is not foreseeable which general orientation the building will face. In order to remain flexible, the building is designed in such a way that it does not matter whether it is oriented north-south or east-west with the unobstructed façade, but performs well in both cases and reduces passive heat gains.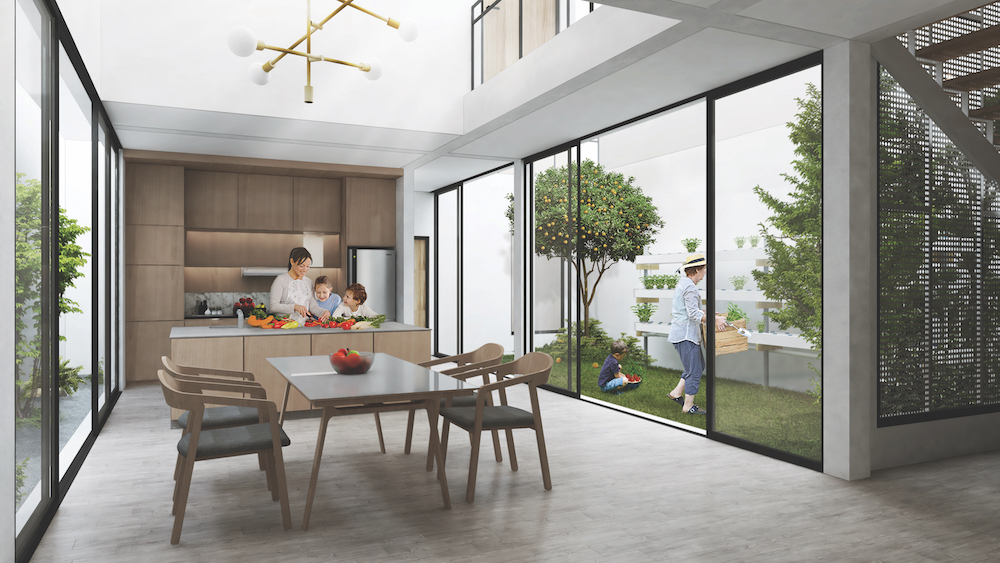 Previously Published Projects