Residential / 2nd Quarter 2019
FGLA 2019 Winner: LABO. The Mori
This multiple dwelling complex took into account the prevailing ecological context/site conditions into its design/plan. The contours of the land, existing trees/vegetation and nature, etc., were carefully considered when determining the position and placement of the building mass, in an effort to minimise disruption to the natural environment. As a result, the diverse biodiversity and habitats on-site were maintained, including squirrels, crickets, birds, etc., to enable residents to be immersed in nature.
The existing environmental conditions were seen as advantages that have been incorporated into the open-plan layout to enhance the experience of the space, and also to help save energy. The spatial design and planning allow for the flow of natural wind and sunlight into the building, enhancing cross ventilation, and resulting in less reliance on mechanical cooling and lighting. New plants have been added on-site, not just for aesthetic reasons but also to create a habitable microclimate by way of shading to improve user comfort and well-being. Transparent walls and a sliding door system were installed so that they could present an extension of the inside space to the outside.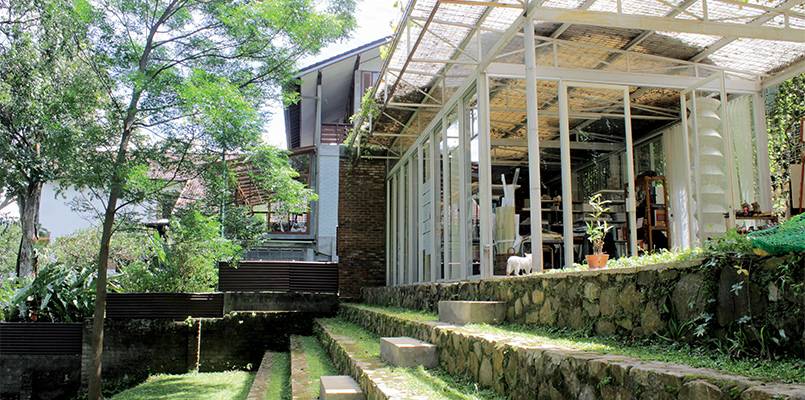 The project utilises natural daylight as the main lighting source during the day and electrical lighting powered by the city's grid (PLN) at night. Water is obtained from the city's water network (PDAM), which is stored in a reservoir and its flow directed by gravity, leveraging the contoured topography of the site. The pumping mechanism is only used in a small area close to the upper section of the reservoir. Based on the costs incurred for water use per month (compared to the standard water use in occupancy), the complex achieved 13 per cent savings; the electrical costs savings obtained were 15 per cent.
| | |
| --- | --- |
| Project Name | LABO. The Mori |
| Location | Bandung, Indonesia |
| Completion Date | 2012 |
| Site Area | 1,307 square metres |
| Gross Floor Area | 317 square metres |
| Number of Rooms | 25 rooms |
| Building Height | 1 to 2 floors |
| Clients/Owners | Deddy Wahjudi; Nelly Lolita Daniel |
| Architecture Firm | LABO. |
| Principal Architects | Nelly Lolita Daniel; Deddy Wahjudi |
| Main Contractor | LABO. |
| Mechanical & Electrical Engineer | LABO. |
| Civil & Structural Engineer | LABO. |
| Landscape Architect | Greenbaum Indonesia |
| Environmental Consultant | LABO. |
Previously Published Projects