Landscape, Urban Design / 2nd Quarter 2019
FGLA 2019 Winner: Development of Windsor Nature Park
URBAN
Windsor Nature Park (WNP) is a 75-hectare green space situated at the intersection between the dense urban fabric of Singapore and its natural biodiversity core. Located at the fringe of the Central Catchment Nature Reserve (CCNR), WNP is designed as a 'buffer park' that mitigates the impact of present and forecasted increase in human activity on CCNR's flora and fauna. A new entrance node, visitor pavilion, office, parking space and a 3.85-kilometre trail network are introduced. Simultaneously, extensive reforestation, secondary forest expansion and a new wetland habitat were completed to enhance the landscape.
The design seeks to fulfil three objectives: (1) to accommodate minimally intrusive recreational activities on-site; (2) to promote education that raises appreciation of Singapore's natural heritage; and (3) to protect and strengthen CCNR's biodiversity.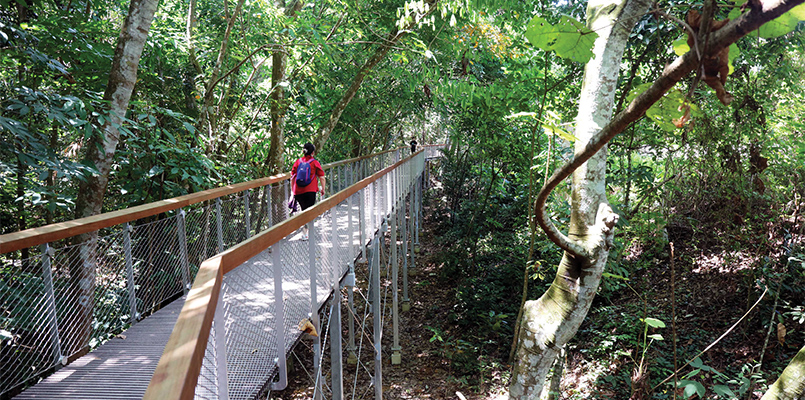 A BUFFER PARK AT THE CITY'S BIODIVERSITY CORE
Land-scarce Singapore has witnessed dramatic transformations of its natural landscape due to competing demands on space. The development of a plantation economy during the early years of Singapore's colonial experience had led to the extensive clearing of primary forests in favour of cash crops. Presently, only 0.5 per cent of Singapore's original primary forest remains, found in small patches located within the CCNR.
While one portion of the park has been designated as the new visitors' node that saw the introduction of the new structures, the remaining site was nurtured as a regeneration/demonstration forest. Students were involved in tree planting as part of the regeneration efforts. Through restoring the secondary forest, WNP enhances visitors' experience to the CCNR, preserving a natural atmosphere.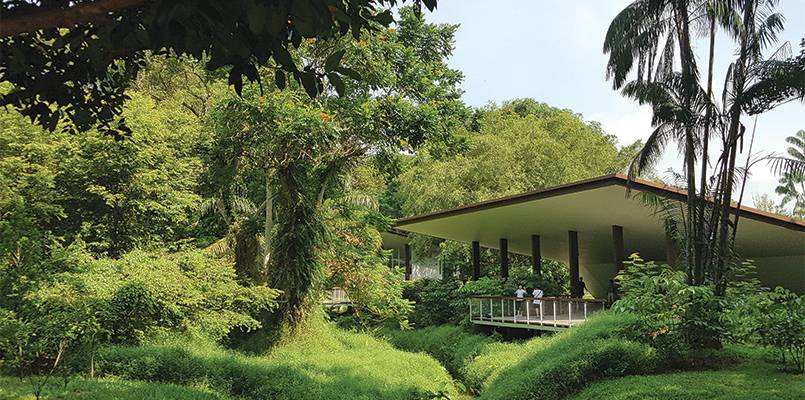 | | |
| --- | --- |
| Project Name | Development of Windsor Nature Park |
| Location | 30 Venus Drive, Singapore 573858 |
| Completion Date | April 2017 |
| Site Area | 750,000 square metres |
| Gross Floor Area | 890 square metres |
| Building Height | Single storey |
| Client/Owner | National Parks Board |
| Architecture Firm | Zarch Collaboratives Pte Ltd |
| Principal Architect | Randy Chan |
| Main Contractor | Landscape Engineering Pte Ltd |
| Mechanical & Electrical Engineer | HY M&E Consultancy Services Pte Ltd |
| Civil & Structural Engineer | Milleniums Consultants Pte Ltd |
| Landscape Architect | Land Design One Pte Ltd |
| Environmental Consultant | Enviro Pro Green Innovations (S) Pte Ltd |
Previously Published Projects