Commercial / 2nd Quarter 2019
FGLA 2019 Winner: Castaway Island
COMMERCIAL
SHOWCASING THE BEAUTY OF BAMBOO
The resort is located on an island in Cat Ba Archipelago, Vietnam, a popular tourist destination. The project consists of five huts, a restaurant and pavilion, on a private beach. The structures are made out of bamboo covered with a thatched roof, referencing traditional Vietnamese architecture. Bamboo is the star of the project, applied for its eco-friendly properties (non-polluting; renewable; recyclable as fertiliser or processed as charcoal). It is also a familiar local material, traditionally used for roof construction, tableware and furniture. The challenge here was to respect the nature of the material while creating a distinguishing space.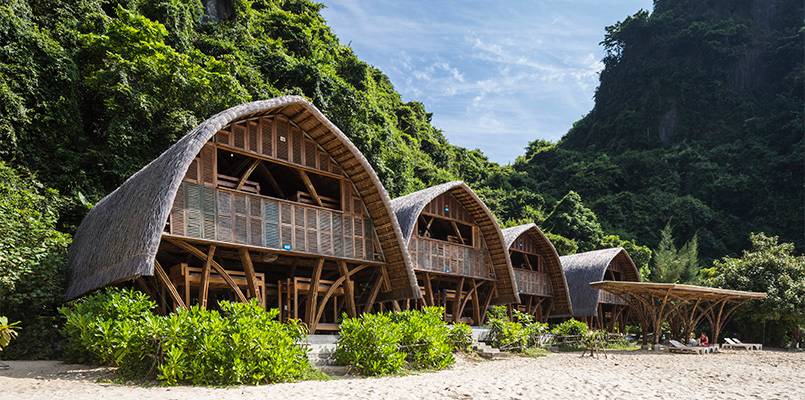 The bamboos were assembled into structural frames so as to provide greater reliability and resilience. The restaurant has a distinctive hyperbolic paraboloid shell.

Bamboos (50 millimetres in diameter) were assembled using low-tech joinery techniques (with bamboo dowels, nails and rope) after they were treated by a traditional Vietnamese method, which consists of bending the bamboo by fire, soaking them in muddy water and fumigation on-site. This process took three months. The construction period took two to three months thereafter.
Altogether, the resort was conceived to tread the earth lightly, to avoid disturbing the site and natural systems as much as possible. Solar energy is used to heat up the water; trees have been planted sensitively so as not to affect the existing vegetation and biodiversity negatively.
| | |
| --- | --- |
| Project Name | Castaway Island |
| Location | Lan Ha Gulf, Cat Ba, Hai Phong, Vietnam |
| Completion Date | January 2019 |
| Site Area | 3,000 square metres |
| Gross Floor Area | 1,100 square metres |
| Architecture Firm | VTN Architects |
| Principal Architects | Vo Trong Nghia; Takashi Niwa |
| Main Contractor | Wind and Water House JSC |
Previously Published Projects