Landscape / Mar - Apr 2016
Building Blue and Green Spaces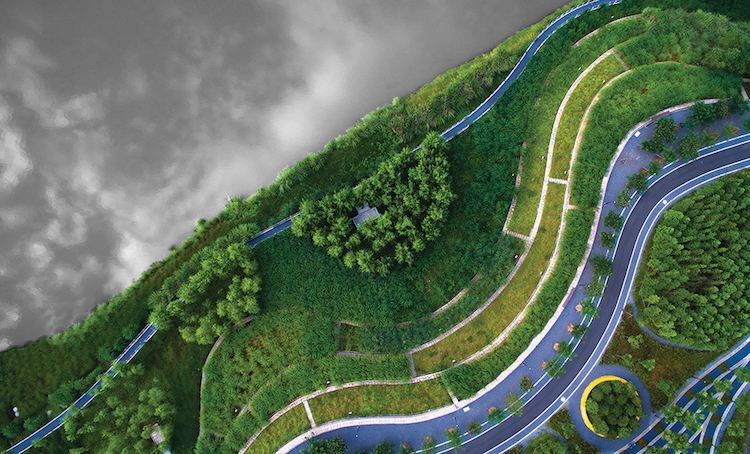 An increasing number of cities in Asia are engaging in efforts to develop and integrate water networks and Green infrastructure as urban planning strategies that also provide for public spaces. This can be achieved through the protection of natural habitats within urban landscapes, while providing adaptive measures that are responsive to the climate. As such, design strategies used to develop Green and blue spaces can help generate environmental, socio-cultural and economic benefits for the surrounding areas and the community. Here are three projects that illustrate how these concepts have been implemented.
YANWEIZHOU PARK
Yanweizhou is a natural riparian wetland located where the Wuyi River and the Yiwu River converge to form the Jinhua River in the urban heart of Jinhua, a city with a population of over 1 million. Before the Yanweizhou Park project was implemented, the three rivers, each of which is over 100 metres wide, divided the densely populated communities in the region. As a result of this inaccessibility, cultural facilities, including an opera house, and the green spaces adjacent to Yanweizhou were underutilised. The remaining 50-acre (20-hectare) riparian wetland was fragmented or destroyed by sand quarries.
FORGING A RESILIENT LANDSCAPE THROUGH ADAPTIVE DESIGN STRATEGIES
Adaptive design strategies were employed to resolve problems posed by site conditions and to achieve a resilient landscape. The river currents, the flow of people, and the gravity of objects are all woven together to form a dynamic concord. This is achieved through the meandering vegetated terraces, curvilinear paths, a serpentine bridge, circular bioswales and planting beds, and curved benches.
WATERFRONT PARK OF AIYI RIVER, YINCHUAN
Situated in the northeast part of Jinfeng District in Yinchuan city, the Aiyi River Waterfront Park is adjacent to the new area of the city. The previous waterfront was poorly planned and failed to solve any environmental problems. It was treated simply as a support facility with no diverse or special experience offered.
DESIGN CONCEPT
As a solution, the proposed design concept focused on three objectives: integrating the city's local features and character into the design; putting an emphasis on ecology and a Green approach by stressing low carbon consumption; and providing and caring for human needs. The concept aims to produce a wonderland-like experience by featuring green mountains and clear rivers.
THE ARC AT BANDAR RIMBAYU
The intrinsic human act of placemaking was the basic principle behind the design conceptualisation of The Arc, located in Bandar Rimbayu, Selangor, Malaysia. It is a public space that not only serves basic communal functions and provides shelter for collective social activities, but also establishes an identity for the community and township. Simultaneously, it responds to the
environment, particularly in addressing the sunlight, heat, humidity and rain of the tropical climate.
Project Name
Yanweizhou Park
Location
Jinhua City, Zhejiang Province, China
Completion Date
May 2014
Site Area
26 hectares
Client/Owner
Jinhua Municipal Government
Architecture Firm
Turenscape
Design Team
Kongjian Yu (design principal); Hongqian Yu; Yu Song; Yuan Fang; Shuiming Zhou; Hui Tong; ShengHui Li; Chujie Lin; Dengfeng Chen
Main Contractors
Jinhua Garden and Landscape Constcution co. Ltd.
Contractor
Zhengjiang Longsheng Construction Co. Ltd
Electrical Engineer
Shanghai Shenguan Construction Co. Ltd
Civil &Structural Engineer
ShenZhen Xilun Civil Engineering
Images/Photos
Kongjian Yu; Turensscpe
---
Project Name
Waterfront Park of Aiyi River, Yichuan
Location
Yichuan, China
Completion Date
2014
Site Area
192,000 square meters
Gross Floor Area
212,000 square meters
Client/Owner
Yichuan Water Affairs Burreau
Architecture Firm
BLVD International
Principle Architects
Yuun DU; Kesheng Liu
Images/Photos
Fang Jian; BLVD International
---
Project Name
The Arc at Bandar Rimbayu
Location
Bandar Rimbayu, Malaysia
Completion Date
2014
Site Area
10.7 acres
Gross Floor Area
12,000 square meters
Client/Owner
Bandar Rimbayu Sdn Bhd; IJM Land Berhad
Architecture Firm
Garis Architects Sdn Bhd
Principle Architects
tang Hsiao Seak; Ngu Bgle Woon
Landscape Architects
Pentago
Main Constructor
Jentrikon Perunding Sdn Bhd
Images/Photos
Steven Ngu; Andy Lim; Garis Architects Sdn Bhd
Previously Published Projects